Due to the Covid-19 outbreak, we can't offer a buffet this year.
You have the possibility to have breakfast on the terrace, in the breakfast room or in your room.
On the terrace and in the breakfast room, the table groups are of course separated by a minimum of 1 meter and we will serve you.
Hours
Breakfast is served from 7.30 am to 10.30 am. On your arrival, we will ask you to let us know your wishes in terms of breakfast (choice of place and products offered) so that we can organize ourselves.
Prices
Breakfast in its gourmet formula is offered at the rate of 14 euros per adult and 7 euros per child.
We also offer a continental formula at the rate of 9 euros per adult and 7 euros per child.
Breakfast is free for children under 4 years old.
Suppliers
We carefully select our breakfast products, giving priority to local suppliers and, if possible, organic products. We thus invite you to discover the jams of ESAT Val de Sournia, the fresh fruit juices from the huts, the olive oil from Mas Boutet (our neighbours whose farm you can visit), the Rayon d'Or honey, the apricot juice from Guy Banyuls.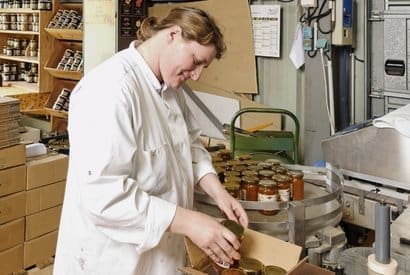 The ESAT (Etablissement et Service d'Aide par le Travail) Val de Sournia is a medico-social establishment of protected work, reserved for people with disabilities, aiming at their social and professional integration or reintegration.
Breakfast room
With 300 days of sunshine a year, you will certainly have the opportunity to have breakfast on the terrace by the swimming pool.
If you find the outside temperature a bit cool or a bit too hot, we suggest you have breakfast in the room below.